Check out this great video of Bill Watrous playing, "Nancy with the Laughing Face." It blows my mind how smooth he sounds, and has everything to do with his slide technique.
Watch how fast he arrives on each note playing the melody. The next ingredient is what "warms it up." He then applies his wonderful, individualistic slide vibrato, and back lightning fast to the next note.
The personnel is stellar, and offer a profound performance. Enjoy!
Television performance in 1976
Bill Watrous, trombone
Chick Corea, piano
Ron Carter, bass
Bill Cobham, drums
Who:
Gaea Schell, piano and vocal
Dave Bones, trombone
Eric Gruber, bass
Ed Pierce, drums
What:
=> Original arrangements and your favorite standards
=> Friendly staff
=> Good food, beverages, and atmosphere
$6 cover
Where:
Ivories Jazz Lounge and Restaurant
1435 NW Flanders, Portland, OR 97209
http://www.ivoriesjazz.com/
Please let us know if you have any questions. Thanks for supporting live jazz, we look forward to seeing you there!
Gaea Schell Trio with Dave Bones, Portland jazz trombonist
Gaea Schell, piano/vocal
Dave Bones, trombone
Dennis Caiazza, bass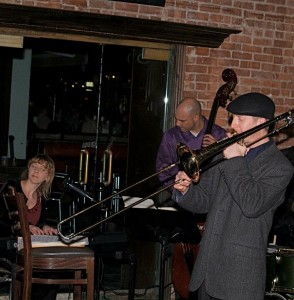 When:
Friday, February 24th from 7 – 10 PM.  Doors open at 6 PM.
Where:
Bijou Cafe
132 Southwest 3rd Avenue
Portland, OR 97204
Ph: 503-222-3187
$5 Discounted Cover Charge (normally $10)
Be sure to catch Gaea while she is in town at this all ages event.   Students welcome!
The group will be performing original compositions and arrangements, as well as standards.
Excellent food, and family friendly environment.
We appreciate your support for live jazz, and look forward to seeing you there!
Dave Bones and Gaea Schell Quartet
Dave Bones, trombone
Gaea Schell, piano/vocals
Patrick Harry, bass
Chris Conrade, drums
When: Friday, 12/23/11 from 9 – 11 PM
Where: Camelia Tea Zone
510 NW 11th Ave, Portland, OR 97209
(503) 221-2130
Holiday Special – complimentary MP3 recordings of this performance
Thanks to all that attended the Holiday Performance last week!  Since this is short notice, we are offering MP3 recordings of this performance for no charge to show our appreciation for your attendance during your busy holiday schedule.  Just be sure to check with me at the show, and we will send the download links to you by e-mail.
$5 cover, no minimum, great food and ambiance
We look forward to seeing you there!
ONE NIGHT, HUNDREDS OF LIVE MUSIC EVENTS, THOUSANDS OF FANS
SATURDAY OCTOBER 15, 2011 – Benefitting ill, disabled, and elderly musicians in need.
Portland Jazz Trombonist Dave Bones and Friends Perform Sweet Relief Benefit Concert
Night of Sweet Relief
Sweet Relief Musicians Fund Portland Oregon Event
Benefitting ill, disabled, and elderly musicians in need.
Portland jazz trombonist, Dave Bones and friends, featuring jazz pianist, Gaea Schell perform locally in Portland, OR as part of national event. On October 15th, artists across the United States are offering benefit performances in support of Sweet Relief Musicians Fund. For more info regarding national event: http://nightofsweetrelief.org/
When:
Saturday October 15, 2011
6 PM – 7:30 PM
Where:
Emilie Dessert Cafe
8680 SW Canyon Road
Portland, OR 97225
503-206-5576
For a donation of $10 or more, you will receive exclusive access to an MP3 recording of the performance.
Any questions, please contact us.  We look forward to seeing you at the performance!
Trombone Lessons and Brass Technique
Three Embouchure Types: Trombone Lessons Reference
David Wilken is an innovative and passionate music educator and trombonist.  He specializes in brass pedagogy, and offers this informative introductory 6 part video series.
This post is intended for students and teachers regarding trombone lessons, as well as reference for all brass embouchure studies.
Areas that watching the videos in this post can help are non-responsive or quiver in embouchure; ceiling in high or low range; lack of flexibility; and, stuffy tone in specific registers.
Please let us know if you have thoughts or insights to share regarding this post.  Enjoy!
Jazz Trombone Video: Dave Bones, I Hear A Rhapsody
Dave Bones at the Globe, jazz trombone video clip, live in Portland, OR
Feel free to check out this video clip playing with some good friends.
Dave Bones, trombone
Rick Homer, trumpet
Wade Kirtley Burggraf, piano
Hank Hirsh, bass
Matt Farina, drums
Also, check out my page offering material for jazz trombone, and other trombone sheet music.
Looking for a trombone player that is very soulful, and can also tastefully "shred" the chord changes?  Can this same player also be a great composer and arranger?  Slide Hampton is that trombone player.
Slide Hampton is a tremendous innovator on the trombone in technique and musicality with varied influences ranging from J.J. Johnson to John Coltrane.
Feel free to click on the videos below to watch and listen to Slide's masterful playing and arranging:
Slide Hampton's blues solo from Dizzy Gillespie's 70th Birthday Celebration at Wolf Trap
LA Jazz Institute, Stratospheric Slide Hampton, "Got the Spirit"
Appalachian State University Jazz Ensemble
Trombone Choir
Winter Concert 1989
Farthing Auditorium
Tune: Lament by JJ Johnson
Featuring Slide Hampton
In A Sentimental Mood feat. Steve Turre
Gramercy Brass: Premier Band @ Caldwell College (July 31, 2010)