Archive for February, 2012
Gaea Schell Trio with Dave Bones, Portland jazz trombonist
Gaea Schell, piano/vocal
Dave Bones, trombone
Dennis Caiazza, bass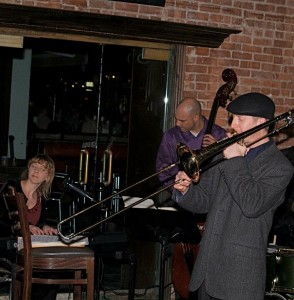 When:
Friday, February 24th from 7 – 10 PM.  Doors open at 6 PM.
Where:
Bijou Cafe
132 Southwest 3rd Avenue
Portland, OR 97204
Ph: 503-222-3187
$5 Discounted Cover Charge (normally $10)
Be sure to catch Gaea while she is in town at this all ages event.   Students welcome!
The group will be performing original compositions and arrangements, as well as standards.
Excellent food, and family friendly environment.
We appreciate your support for live jazz, and look forward to seeing you there!