This was a fun trio performance in LA with Gaea Schell and John Leftwich.
Cafe 322, Pasadena, CA, 12/9/11
Dave Bones, trombone
Gaea Schell, piano
John Leftwich, bass
Jazz Trombone Blues Improvisation Scale and Melodic Ideas
Legendary jazz pianist and educator, Barry Harris really breathes life in how to play bebop lines over a Bb blues progression. Great information, realistic flow, and motivating for students.
In the two videos below, Barry shares some very specific ways to get started in practicing scales, and builds a melody with class participation demonstrating melodic construction. Another point that he drives home is the importance of practicing with good time. He applies this both in commitment to the tempo, as well as which notes land on the beat in scale practice.
Jazz Trombone Vic Dickenson solo on Perdido
Check out this great example of jazz trombone. Vic Dickenson plays a wonderfully melodic solo over the changes to Perdido.
Jazz Trombone Vic Dickenson Transcription Assignment
Here is the PDF for the Jazz Trombone Vic Dickenson Transcription Assignment
Feel free to comment, and please let me know if you have any questions. Enjoy!
Beaverton Friends of Music presents Dr. John Benham
Be sure to listen to the audio file below, and read the comprehensive BSD 52-page PDF Report of this once in a life time event presented by Dr. John Benham.
 Dr. John Benham Music Advocacy Recording
Dr. John Benham Music Advocacy BSD 52-page PDF Report, revised 5/6/13
(To Save either file on your computer, Right Click, and then "Save Link As")
Beaverton Friends of Music advocacy coalition presents Dr. John Benham, and provides dramatic new information that will help save music programs and promote quality education for ALL Beaverton Students.  Dr. Benham, internationally renowned public school music researcher, advocate, and author of "Music Advocacy: Moving from Survival to Vision," conducted a landmark study of the Beaverton music program over the last 15 years.  In this audio recording, he presented his findings at Southridge High School on 5/4/13.  The extensive report, tracking BSD 15 years worth of data supporting music advocacy is included in the PDF link above.
For more information, visit www.musiceducationmatters.org
Beginning Trombone Lessons: Ruby by H.A. Vandercook
This is a great first full piece with piano accompaniment for beginning trombone lessons. It offers musicality, and application of the main articulations for the trombone which are Legato, Staccato, and Normal Articulation / Bell Tones.
This is one of ten pieces in a collection that offer similar benefit, ranging from Grade 1 – 3. These are frequently used for Junior Solo / Ensemble contests, and costs about $13.
Feel free to click on the link below for more information about this collection.
I would love to hear your comments, and how you are doing with the piece. Enjoy!
In learning jazz improvisation on the trombone, it is very important to make transcribing part of the curriculum for study.
One way to ease into transcribing is to transcribe excerpts from different players. If this inspires you to listen to more of the artist you started transcribing, well that's great! At this stage of the game, listening is also critical. Having a teacher to help you "frame" the value, breathe life, and offer direction in your study to integrate listening and transcribing can be very beneficial.
In the brief video below, I play excerpts from the following three solos – J.J. Johnson, Misty; Carl Fontana, I Thought About You (including a supportive technical drill where no tongue is used to articulate the notes, but focus on air and embouchure. Then, the tongue is integrated again.); and, J.J. Johnson, Nutville.
Please let me know if you have any questions, or have any feedback to share. Enjoy!
Trombone Lessons – Basic Warm Up
In the video below, I am playing a warm up that only takes a few minutes, and addresses primarily Flexibility, Range, and Articulation.  The content and sequence was inspired through independent study with Alan Raph, world-renowned trombonist, author, and educator. I hope you enjoy the content, and please feel free to e-mail me if you have any questions!
First Jazz Transcriptions to Transcribe and Why?
The 12 bar blues, and the chord changes to "I Got Rhythm" are a very rich part of jazz improvisation heritage.  I recommend beginning with transcriptions based on these chord progressions for two reasons.
The first reason is because these chord progressions are so prevalent in jazz history.  One thing that ties in this art worldwide is a common frame of reference in repertoire throughout the world.  Whether you speak Italian, German, Mandarin Chinese, or any other language does not matter when you play with other jazz musicians from these countries.  You will be able to play, and communicate through music together with this common knowledge of the blues and Rhythm Changes.  How cool is that?
The second reason is that the new student in transcribing is trying to get ideas for their own improvisation, and will immediately get a lot of mileage for a smaller amount of work.  Building upon successful experiences is so important at this stage.  Because many playing situations with other people will offer the opportunity to solo over these chord changes, the student can immediately apply what they have learned.
A very important point to consider for "over-achievers" out there is the following. Please realize that you don't have to be able to play through an entire transcription to benefit in ideas for soloing. Often, it is better to memorize just one or two measures that you find interesting, and can technically play. Then, take the time to internalize that passage, playing it over and over. The next step will be to insert and develop that sound into different settings like over the blues, or other ideas.
Please see below for a few blues and Rhythm Changes solo transcriptions.
F Blues: Fred Wesley playing "Sandu"
Eb Blues: Curtis Fuller playing "Blue Train"
Db Blues: Mark Nightingale playing "On the Side"
Bb Blues: Michael Dease playing "Blues On the Side"
Bb Rhythm Changes: Carl Fontana playing "I Got Rhythm"
What are other considerations for beginning improvisors and transcribing?
The next priority is to start hearing more "Tonic" sounds where the improvisor is basing his ideas on the I (Major or minor) chord; as well as, ii-7 V7 transitional sounds offering momentary tension.
Please see below for some examples. If not familiar with the chord progressions of the songs below, please feel free to refer to a lead sheet, or e-mail me for reference ideas.
Urbie Green playing "Lullaby of Birdland" in Ab:
Listen for the following in this track:
A Sections:
– F minor tonal (i minor) ideas
– Ab Major tonal (I chord) ideas
– ii-7 V7 I in Ab (|Bb-7 Eb7|AbMaj7 |)
– ii-7(b5) V7b9 i min in F minor (|G-7(b5) C7b9|Fmin |)
Bridge:
– ii-7(b5) V7b9 in Bb minor (|Cmin7(b5) F7b9| Bbmin |)
– ii-7(b5) V7b9 resolving to Ab Major (|Bb-7(b5) Eb7(b9)|AbMaj7 |)
Carl Fontana playiing "Hey There" in Ab:
Pay particular attention to the A sections on this track. Some points to consider are below:
– I VI7 ii-7 V7 (|AbMaj7 F7|Bb-7 Eb7|) for tonal ideas based in the key of Ab
– ii-7 V7 I in Ab Major (|Bb-7 Eb7|Ab Maj7 |)
– I VI7 ii-7 V7 (|CMaj7 A7|D-7 G7|) for tonal ideas based in the key of C
– ii-7 V7 I in C Major (|D-7 G7|C Maj7 |)
Feel free to e-mail me if you have questions, or if you would like to share some insight as well.
I wish you the best in your journey of discovery and improvisation!
Musically,
Dave Bones
Gaea Schell and Dave Bones Jazz Performance and Education Event this Thursday 3/29/12 at Tony Starlight's!
Be sure to come by the Gaea Schell and Dave Bones Jazz Performance and Education Event at Tony Starlight's Supper Club – Lounge this Thursday, 3/29/12.
A few words from Tony, the owner of Tony Starlight's Supper Club – Lounge regarding his dream which has become a reality.
"We wanted to create a place where different kinds of people could come and connect with one another, around music and performance, without a TV or video poker to distract them. The greatest things in life are the personal relationships we forge and with cell phones, email and Facebook we sometimes think we're connecting with each other but it cannot replace face-to-face contact."
We see this as a great match for jazz performance, and a supportive environment for students to come and listen.  As well, we will be showcasing a few select students sitting in, learning and sharing on the bandstand.
We look forward to seeing you there!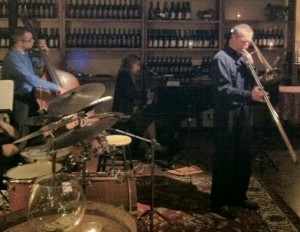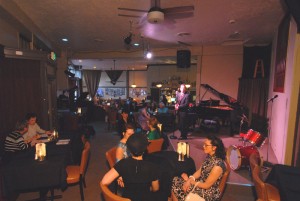 Who:
Gaea Schell, piano and vocal
Dave Bones, trombone
Patrick Harry, bass
When:
Thursday, 3/29 from 7:30 – 10:30 PM (minors permitted until 10 PM)
$8 cover
[The cover charge is directly compensated to the performers. However, if there is a financial challenge, just contribute what you can and come enjoy the music!]
Where:
Tony Starlight's Supper Club – Lounge
3728 NE Sandy Blvd
Portland, OR 97232
Reservations: 503-517-8584
http://www.tonystarlight.com/events.shtml
Check out this great video of Bill Watrous playing, "Nancy with the Laughing Face." It blows my mind how smooth he sounds, and has everything to do with his slide technique.
Watch how fast he arrives on each note playing the melody. The next ingredient is what "warms it up." He then applies his wonderful, individualistic slide vibrato, and back lightning fast to the next note.
The personnel is stellar, and offer a profound performance. Enjoy!
Television performance in 1976
Bill Watrous, trombone
Chick Corea, piano
Ron Carter, bass
Bill Cobham, drums